6P's 12 Steps to a Warm & Fuzzy Winter
Here's our 12-step guide to enjoying the holiday indoors this season
To celebrate the season, we made a list (and checked it twice) that is sure to bring you holiday cheer this unusual year.
Come back each day to uncover the next part of 6P's 12 steps to a warm and fuzzy winter. With many of us staying inside this season, we thought it would be nice to suggest ways we can keep warm and safely try new things, while also supporting local businesses.
It's also a great excuse to do some last-minute shopping for the people on your list!
We will be adding to our list daily, so be sure to check back or follow along on our social media beginning December 14.
We look forward to sharing the holiday spirit with you!
Step 1:
Sip on some tasty hot cocoa.

Stir up a cup o' cocoa and simmer down the shivers with a warm, chocolatey drink.
Consider shopping locally and pick up a "lump of coal" from Decadence Chocolates that'll transform your cold milk to hot chocolate.
Find more amazing ways to add a chocolatey delight to your mug at https://www.decadencechocolates.ca/shop.
Step 2:
Rock a pair of fuzzy socks or slippers.
Keep your toes toasty with a warm pair of socks or slippers.
Support a Manitoba-owned company by picking up some moccasins – Manitobah has been keeping people warm for generations! View their beautiful designs.
If you like seasonal specialty items, consider a quarterly subscription box from Hygge Canada.
Step 3:
Bake some delicious desserts.
Who doesn't love the smell of fresh-baked cookies? Whip up some goodies this winter and make your gift-giving as easy as turning on the oven.
Check out Winnipeg's own Jenna Rae Cakes' sweet treat recipe book for some inspiration!
Step 4:
Get crafty – create a homemade gift.
Gather up the scissors, glitter, and glue and make some space on your kitchen table for a craft night.
Create something cute with your kiddos, or call up a friend over video chat and make a handmade gift for each other.
Even a homemade holiday card is sure to bring a smile to somebody's face!
Step 5:
Write a whimsical letter to an old friend.
Reach for your finest pen and take a page from us – writing a letter to somebody the old-fashioned way is exceptionally special!
Don't have any sensational stationary? Shop online at this local gem, UN Luggage.
They offer more than just travel bags – you can find your next favorite pen here.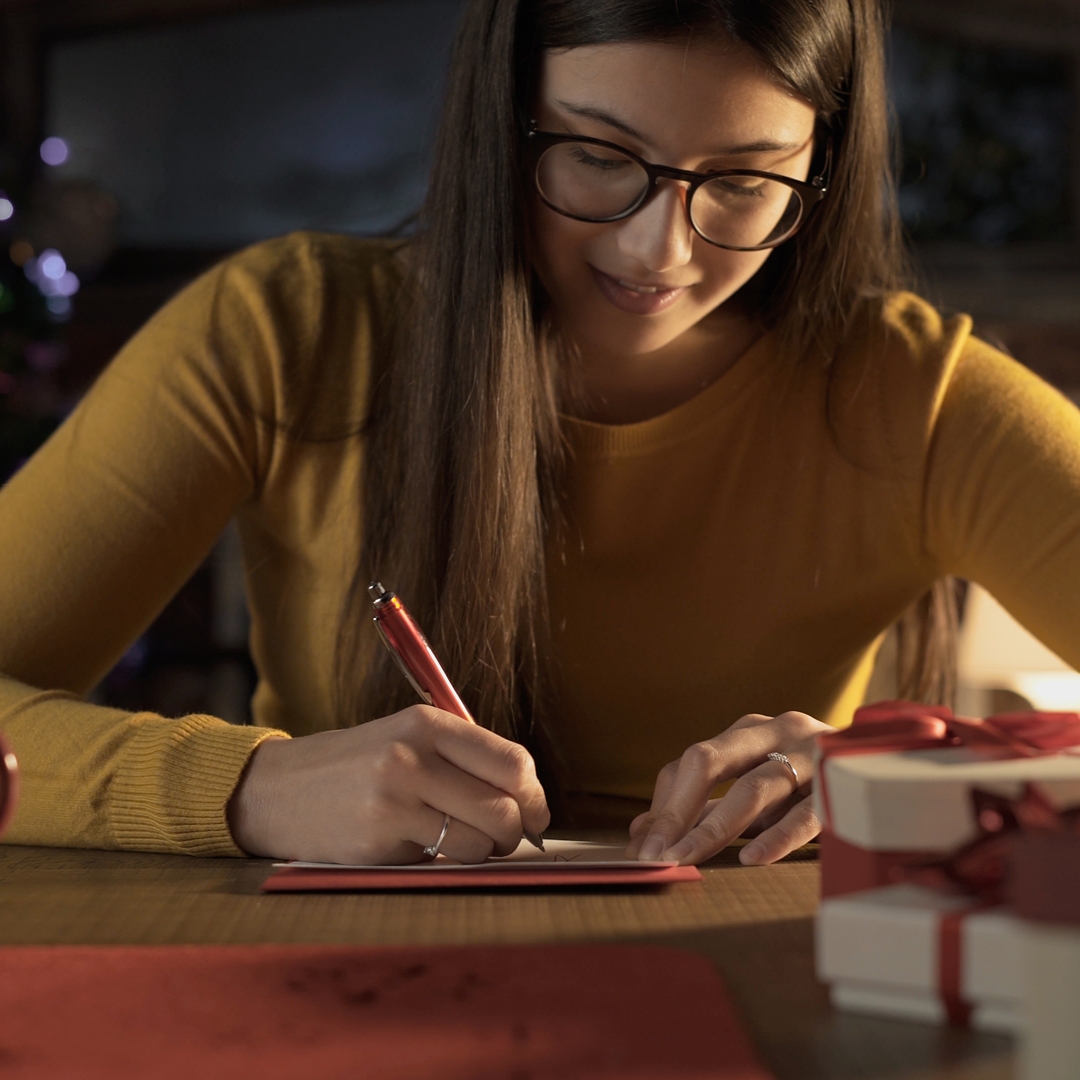 Step 6:
Heat up the kitchen with a new recipe.
Nothing says cozy like a piping hot homemade meal.
Prepare a delicious new dinner with help from Manitoba Pork. They've got a plethora of recipes for you to try out at manitobapork.com/recipes!
Step 7:
Make a small donation to a local organization.
In lieu of gifts this year, we made donations to some spectacular local charities that do a lot of good for our city.
If you've got a few dollars to spare, why not donate them to a local charity of your choosing? It's sure to warm your heart.
Step 8:
Cozy up in bed with a good book.
Snuggling up in a warm bed surrounded by blankets and pillows is a great feeling – take it to the next level and enthrall yourself in a new book!
McNally Robinson is offering curbside pickup AND delivery in Winnipeg.
Step 9:
Watch the latest heart-pounding action movie.
Get your blood pumping with an intense action movie or thriller. Long winter nights and cold weather make for the perfect movie night in!
Step 10:
Light a candle and run a warm bath.
Nothing soothes the chills like a warm bath.
Soak in the tub with a soothing Tiber River bath bomb or a sprinkle of bath salts. Their coveted winter collection is out and will have you feeling the holiday spirit.
If you're looking for a little extra scent for the rest of your home, pick up a candle or some incense from Winnipeg brand Coal and Canary who offers a selection of pleasant, aromatic products.
Step 11:
Get up and move! Do what makes you feel good.
Whether you like to run, dance, lift weights, do yoga, or something else, getting up and moving is a great way to warm up, feel good, and do good for yourself! Don't let the cold weather confine you – find some inspiration online and move in a way that makes you feel good!
If you like to dance, perhaps the Royal Winnipeg Ballet's online performances can inspire you to practice your own choreography!
Step 12:
Get comfortable and throw a log on the fireplace – or, put the Yule Log on TV! Spend the day feeling relaxed and warm.
We hope you enjoyed our 12 steps to a warm and fuzzy winter! From all of us at 6P Marketing, have a wonderful holiday season.