Just as a successful business doesn't just appear overnight, an effective brand is the result of thorough planning, strategic positioning, consistent execution and regular measurement. 6P has developed a collaborative 4-step process that helps brand leaders achieve their goals.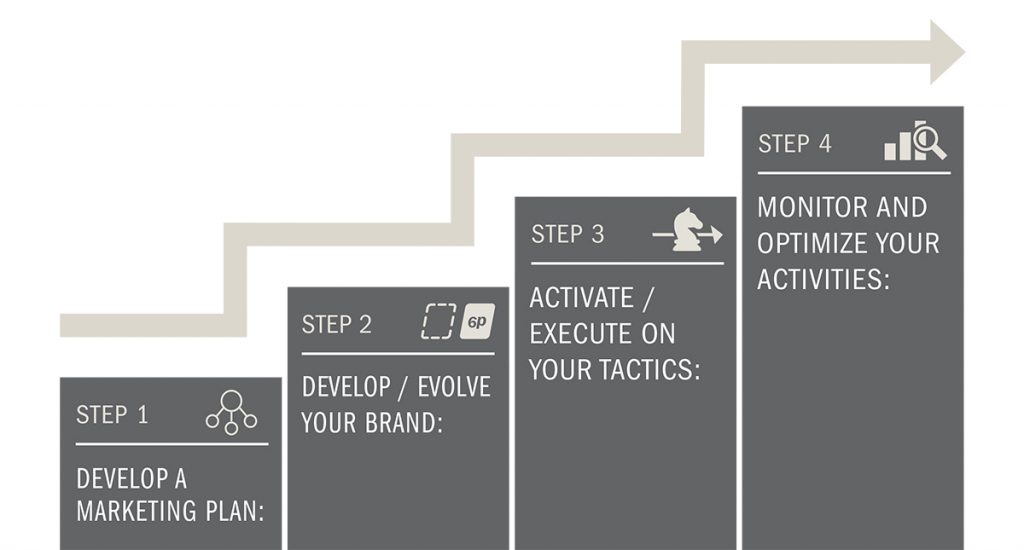 Plan
Our process both begins and ends with your goals. A marketing plan is critical to help you identify what these goals are, and how best to reach them. We use research and your unique insights to profile your customers and their needs, understand and articulate the unique value you provide, and ultimately develop an actionable plan which provides concrete tactics that help you achieve success.
Our planning services include:
Customer profiling and competitive differentiation
Lay the groundwork by defining your market, your goals, your audience, their needs and the competitively differentiated value that you deliver.
Tactical calendar and implementation schedule
Know where your audience is and how to reach them, then help you allocate your resources to ensure your marketing investment generates the maximum return.
Annual marketing budgeting
Collaboratively determine the itemized and prioritized budget required to reach your annual goals.Note: 6P also supports clients seeking help planning on individual tactics (websites, email marketing, newsletters, etc.) as well as the development of content plans.
Brand
A thoroughly thought out and well defined brand is customer centric and drives home your message of quality, professionalism and value. Integrating core brand truths into your communications tactics helps your target audience understand and appreciate that value more easily and effectively.
Whatever your goals, our process invariably works with you to:
Communicate with your audience consistently, in a contemporary and relevant manner
Support your operational USP
Deliver your message through both online and traditional media
Key components of our brand strategies include:
Target audience profile
Brand personality
Brand attributes
Execute
If your plan and your brand aren't generating you business, they're not doing their jobs. By first selecting, then prioritizing and, finally, executing your tactics, we help you reach your customer segments effectively with brand elements, media and messages optimized to help you reach your goals.
The execution process may fall into three categories:
Attract
We'll help drive more leads to your website or foot traffic through your doors.
Convert
We'll help you develop a process by which suspects become prospects, and prospects become loyal brand ambassadors.
Nurture
We'll help you nurture positive relationships by regularly engaging your existing customers and prospects.
Measure
Once your marketing efforts are underway, it is important to understand your key performance indicators (KPIs) and regularly measure to ensure return on investment (ROI). We can help you cut through the mass of information and determine the areas on which you should focus to gain the clearest understanding. Then, metrics in hand, we will work with you to optimize your approach, ensuring messaging and tactics are operating at maximum efficiency, all while staying within your budget.