Brand and Advertising Evolution
The Challenge:
To launch a new multimedia campaign in time for the banking industry's winter RRSP/TFSA season, CCCU needed a fresh way to stand out from its competitors and reposition itself in the marketplace. The client's original idea was to try to communicate the "laddering" investment strategy. Laddering means taking portions of your investment and staggering it among several terms. This gives people financial flexibility, ensuring they have money when needed without sacrificing the chance to take advantage of investing a portion of their portfolio over the longer term. The biggest challenge: the client didn't want to show its actual rates in the ads due to frequent changes. An added consideration: this was CCCU's first campaign on the heels of a new branding exercise, so a real conversation starter was desired.
The 6P Solution:
Atypical for 6P, we walked into the creative presentation at CCCU with only one idea (affectionately termed the slinky pitch). We intentionally backed off from the client's ladder idea (too complicated). Instead, we chose to convey the flexibility inherent in the ladder philosophy without getting bogged down in banking jargon. We went with this: "Get flexible." Our additional add copy was similarly straightforward: "Savings plans with short-term flexibility and long-term gains. Ask us how." The client loved the idea and greenlit a series of marketing collateral, including a landing page, bus backs, in-branch signage, a website rotator, billboards, Winnipeg Free Press ads, and customer-centred promo items (e.g., blue-coloured slinky toys).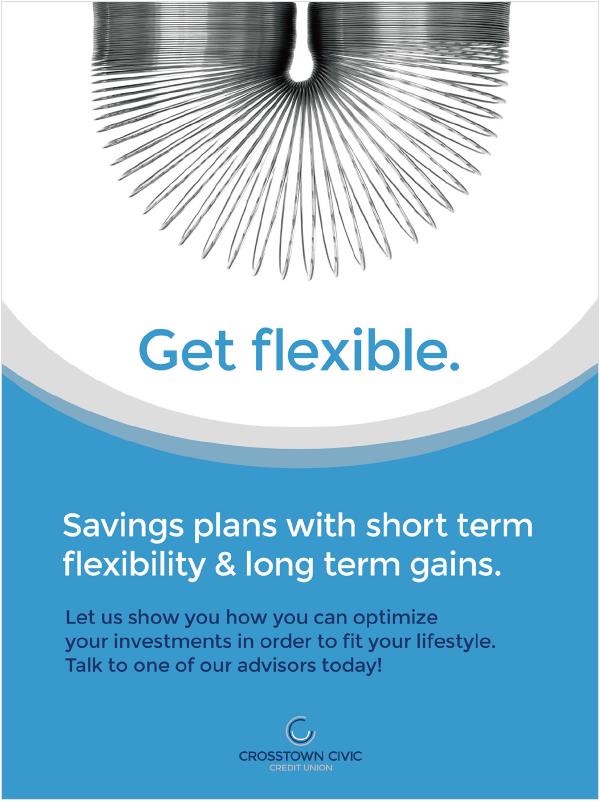 The Outcome:
It's safe to say 6P knocked this campaign out of the park. The client loved the reaction received from staff, spanning front-line service agents all the way up to executives and board members. A tonne of internal excitement surrounding the launch, and employee engagement reached new heights. Whether the branding was experienced in-branch or out in the community, the conversation got started—much to CCCU's delight.